MTC-1 Magnetic Torch Cleaner
The next evolution in MIG welding torch consumable cleaning equipment is now available.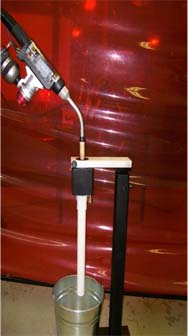 The MTC-1 removes weld spatter deposits from the contact tip, diffuser and from inside and outside the gas nozzle utilizing an electromagnetic process. A strong magnetic field is produced instantaneously and held briefly via a cleaning coil that loosens the accumulated spatter from the nozzle & torch consumables and pulls it away. The result is a touch less torch consumable cleaning method that increases the serviceable life of the gas nozzle, contact tip and diffuser. Use in conjunction with Loctite SF 7900 ceramic polymer spray shield coating, for spatter & thermal protectant on the torch consumables to obtain optimal performance.
Features & Benefits
Non-contact Automatic Nozzle/Tip Cleaning
No moving parts to wear out & replace
Simple Installation & Programming
120Vac 50/60Hz
Eliminates programming the nozzle to reamer blade relationship
Consumables are not damaged during the cleaning operation
Prolongs the life cycle of torch consumables
Cleans any nozzle bore size & tip configuration
24"x20"x12" Control Enclosure
15-20 second recharge time